text.skipToContent
text.skipToNavigation
Articles
Three Important Features to Consider When Buying a Pressure Washer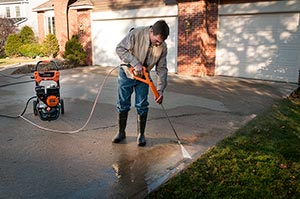 Pressure washers are fantastic pieces of equipment which you can use for all sorts of cleaning jobs around the house. Whether you're in the market for a small, light duty pressure washer or a professional grade pressure washer for heavy chores, there are some basic features worth considering. Here are three of the most important:
PSI Range
Pressure washers come in a wide variety of PSI (pounds per square inch) levels. The PSI level you'll need depends on the type of project you'll be doing.
For basic cleaning tasks a small machine with a PSI between 1,000 and 1,900 would be appropriate.
Examples:
● car washing
● sidewalk cleaning
● clearing gutters
For heavier duty cleaning or large areas a 2,000 to 3,200 PSI pressure washer would be best.
Examples:
● cleaning swimming pools
● washing floors
● cleaning decks
● washing your home's exterior
When it comes to stripping paint, removing grease stains and cleaning stubborn marks off concrete floors, nothing short of a PSI between 3,200 and 3,800 will do.
Our new Generac SpeedWash Pressure Washers are available in 5 models. The Generac 2900 PSI and 3200 PSI SpeedWash models are designed for the homeowner. These two models are powerful enough for any residential application. For more power you may want to consider a professional grade model like the Generac 3600 PSI Pro or 3800 PSI Pro Belt Drive. For the toughest jobs, the Generac 4200 PSI Commercial Grade Pressure Washer should be considered.
Portability
How portable will you need your pressure washer to be? If you're only going to be cleaning a small area, you can settle for one of the many electric pressure washers available on the market today. This type of washer is powered by an electrical outlet and therefore features a cable which won't allow you to wander very far.
On the other hand, if you plan on cleaning a large area, you'll need to move around freely, making one of the many gas pressure washers available the best choice for you. Powered by gas or diesel, this type of washer allows you to move as far away from your home as you want, while still being able to use the machine.
Pressure Washer Accessories and Attachments
Pressure washers come in a wide variety of models, some of which come with a series of accessories and attachments and some of which come as standalone machines without any add-ons.
Generac SpeedWash Pressure Washers are a complete system with a variety of innovative cleaning tools available.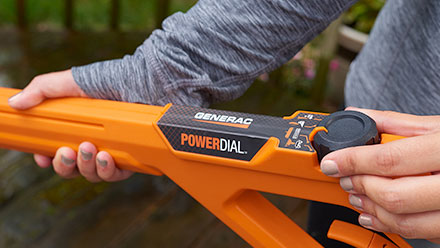 Innovative PowerDial™ Gun
The PowerDial Gun puts the ability to change water pressure, quickly and easily, right at your fingertips. Each of the 4 application settings is marked with an intuitive pictogram: CAR, for autos and other light cleaning jobs; WOOD, for siding and other surfaces that require intermediate pressure; SIDEWALK, for pavements and other surfaces that can withstand full pressure; and SOAP, for applying detergent.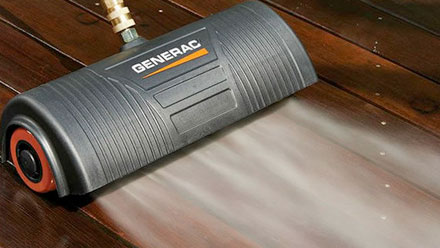 The Power Broom
When cleaning decks and driveways, it can be a challenge to maintain a steady distance and pressure as your arms tire over time. The Power Broom houses four nozzles that roll along at a constant height. In addition to being MUCH less fatiguing, the Power Broom helps prevent accidental damage that can occur with a single high pressure nozzle. Plus, it gets the cleaning done up to 4X FASTER!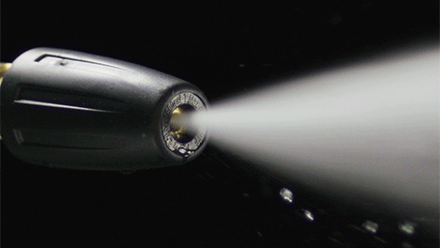 The Turbo Nozzle
Using a high-pressure rotating jet, the Turbo Nozzle can scrub away grime and stains quickly?cutting cleaning time by up to 30%.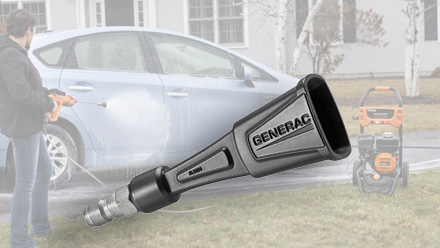 The Soap Blaster
The Soap Blaster nozzle shoots soap 3x farther and agitates it into an active foam.
Now that you know the main features worth considering when purchasing a pressure washer, you'll be armed with enough information to get out there and buy the best machine for you.